What's New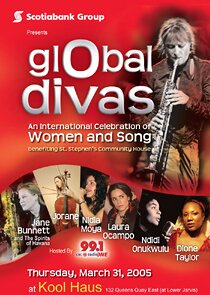 Please join us on Thursday, March 31, 2005 for Global Divas, an international celebration of women and song, benefiting St. Stephen's Community House at Kool Haus (132 Queens Quay East).
Now in its third year, Global Divas continues the fine tradition of celebrating women and the rich diversity of Toronto. Some of the finest female world artists will grace the stage, producing a cultural experience that is not to be missed!
Headlining the show is Grammy nominated and Juno award-winning jazz virtuoso, Jane Bunnett and The Spirits of Havana. Recently appointed Officer of the Order of Canada for her extraordinary artistry and social activism, she continues to create hybrids of jazz seductive to the ear. Joining Jane is a talented line-up of divas - Jorane, Nidia Moya, Laura Ocampo, Ndidi Onukwulu and Dione Taylor - each with a distinctive performance style that is sure to delight the senses. Last year, over 900 people attended the event, and thousands more enjoyed the concert that was broadcast across Canada by CBC Radio.
The evening will begin with the gala reception starting at 6:00 p.m. where you will have an opportunity to meet the fabulous divas, enjoy a wide array of delectable dishes prepared by some of Toronto's finest culinary artists, and explore the Global Marketplace, a silent auction loaded with amazing items and great raffle prizes. You will also have VIP seating for the concert which begins at 8:00 p.m. to give you the optimal experience of this wonderful event.
Gala tickets are $125 ($75 tax receipt) and tables of 10 can be purchased for $1,200 ($700 tax receipt). Concert only tickets are $30. To order tickets, please contact Denise at ext. 238 or download and fax the ticket order form to .
St. Stephen's Community House has been creating opportunities and strengthening communities in west downtown Toronto for over 40 years by helping newcomers to Canada, families with young children, youth at-risk, homeless men and women, job seekers, people and organizations in conflict, isolated and frail seniors, and expectant mothers. By supporting Global Divas, you are helping to make a difference in the lives of over 32,000 people served each year by our programs and services.
We hope you will support St. Stephen's Community House by attending Global Divas 2005 and joining us in this cultural celebration! We look forward to seeing you there.
Presenting Partner


Hosted By

Corporate Partners

Food Partners

Media Partners



Concert Tickets
Concert admission tickets are available for sale at the following outlets:
Ticketmaster, , www.ticketmaster.ca

Toronto Women's Bookstore,
73 Harbord St.

Pages Books and Magazines, 256 Queen St. W.

Soundscapes, 572 College St.

GLOBAL DIVAS
Contest 2005
WIN one of two pairs of tickets to see Global Divas 2005!
» read more

GLOBAL DIVAS
Photo Album

Press Releases
February 17, 2005
October 14, 2004
June 10, 2004
March 1, 2004
February 2, 2004

Past Events
Opening of the Newcomer Family Centre, June 2004
» read more

Global Divas 2004
» read more

Global Divas 2003
» read more