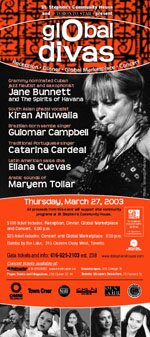 Thank You!


St. Stephen's Community House Board of Directors and staff, and the Global Divas Committee would like to thank everyone who helped to make our first annual Global Divas event such an overwhelming success. The event drew a record attendance of over 650 people to Bambu by the Lake on March 27, 2003!

Special thanks to our phenomenal divas - Jane Bunnett and the Spirits of Havana, Kiran Ahluwalia, Guiomar Campbell, Catarina Cardeal, Eliana Cuevas and Maryem Tollar - who gave their time and talent, delivering an amazing concert that showcased diverse international musical genres.

We sincerely appreciate the support of the following sponsors and friends for their contribution to Global Divas.