February 2, 2004
For immediate release
Concert announcement
ST. STEPHEN'S COMMUNITY HOUSE
SECOND ANNUAL GLOBAL DIVAS GALA
WEDNESDAY MARCH 24, 2004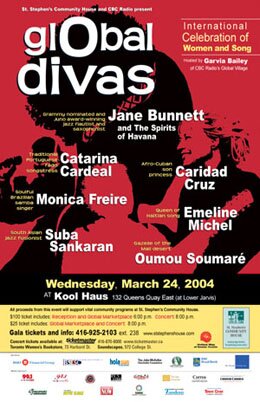 Headliner
Grammy nominated jazz artist
JANE BUNNETT AND THE SPIRITS OF HAVANA
St. Stephen's Community House announces Global Divas, an international celebration of women and song, on Wednesday March 24, 2004 at Kool Haus, 132 Queens Quay East. The event will feature a talented and diverse line-up of accomplished Canadian female world artists. Proceeds from the evening will support vital social programs at St. Stephen's Community House, which helps more than 28,000 people each year.

Grammy nominated and Juno award-winning jazz virtuoso, Jane Bunnett and the Spirits of Havana, will return as headliners for this year's gala event. Her unique sound of folkloric Cuban music mixed with jazz is just the beginning of the talent that will be showcased at this dynamic event, produced in association with CBC Radio One's Global Village. Other artists are currently being confirmed and will be sure to impress.

"Last year's event was an overwhelming success and we look forward to continuing our partnership with the musicians and the community as we celebrate the incredible diversity of our city," says Liane Regendanz, Executive Director, St. Stephen's Community House.

The Global Divas concert begins at 8:00 p.m. with doors opening at 7:30 p.m. Concert admission tickets are $25 and can be purchased by calling Ticketmaster at and online at http://www.ticketmaster.ca. Concert tickets can also be purchased by visiting Soundscapes located at 572 College St. and Toronto Women's Bookstore located at 73 Harbord St.

Meet the Divas at a Gala Reception beginning at 6:00 p.m. Included in this special portion of the evening is a delectable array of international cuisine and the Global Marketplace. Gala tickets are $100 and can be purchased by calling ext. 238 (partial tax receipts will be issued for gala tickets).

St. Stephen's Community House has been creating opportunities and strengthening communities in Kensington Market and surrounding neighbourhoods for over 40 years by providing vital programs for low-income families, at-risk youth, the homeless, isolated seniors, people at-risk of contracting HIV/AIDS, the unemployed and newcomers to Canada.

Please stay tuned for further details about the concert line-up.

Please add this to your listings. We are presently confirming interviews.

For further information regarding St. Stephen's Community House and Global Divas, please visit https://ststephenshouse.com.

For more information please contact:
Planet3 Communications Ltd. • Mary-Margaret Love
tel.


For more information about Jane Bunnett please contact:
Capitol/Virgin Music • Charlotte Thompson
National Media and Artist Relations
tel.