February 17, 2005
Concert announcement
3rd ANNUAL GLOBAL DIVAS GALA CONCERT
THURSDAY, MARCH 31, 2005
KOOL HAUS, 132 QUEENS QUAY EAST, DOORS OPEN 7:30 P.M.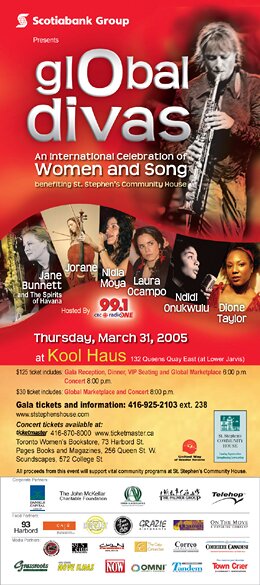 St. Stephen's Community House announces the 3rd Annual Global Divas Gala Concert, presented by Scotiabank Group and hosted by CBC Radio 99.1. This international celebration of women and song will take place on Thursday, March 31st at Kool Haus, 132 Queens Quay East.

Now in its third year, the concert features a talented and diverse line-up of accomplished Canadian female world artists, led by Jane Bunnett and The Spirits of Havana. Proceeds from the evening will support vital social programs at St. Stephen's Community House, helping more than 32,000 people each year.

"Last year's event was magnificent the music, the food and the fabulous audience all together created an atmosphere of pure magic! Global Divas is indeed a celebration of the incredible diversity and culture in our city," says Liane Regendanz, Executive Director, St. Stephen's Community House.

Our Hostess:
Jane Bunnett
Juno award winner and Grammy nominated, Jane Bunnett and The Spirits of Havana will headline the 3rd Global Divas Gala Concert. Recently appointed Officer of the Order of Canada for her extraordinary artistry and social activism, Jane Bunnett is the musical director of the concert. Jane, also known for her improvisational experiments with rarely heard folk music from Cuba and different parts of the world as portrayed on her latest album, Red Dragonfly, was recently nominated for a 2005 Juno Award in the Contemporary Jazz Album of the Year category.
http://www.janebunnett.com

Dione Taylor
Originally from Regina, Saskatchewan, Dione Taylor's soulful vibe uplifts audiences with intimate interpretations of ballads, classic jazz standards and her own well-crafted compositions which are highly regarded and praised. Her album "Open Your Eyes" was nominated for Vocal Jazz Album of the Year for the 2005 Juno Awards, Jazz Recording of the Year for the 2004 Urban Music Awards, and selected as one of the Top Jazz Recordings of 2004 by Jazz FM 91.1.
http://www.dionetaylor.com

Jorane
This Montreal songstress' passionate, intense and innovative style has earned her widespread critical acclaim for her eclectic cello-based music with ethereal-sounding French vocals. Jorane is a talented cellist and singer, and earned a Juno nomination in 2000 for Best New Artist.
http://www.jorane.com

Laura Ocampo
This Argentinean blends rhythmic Argentine chacarera and zamba with traditional ballads and songs. Laura was awarded for Best New Artist at the 2000 Chacarera Festival of Santiago del Estero, and Best Female Folk Music Singer at the 2002 Baradero Festival.

Ndidi Onukwulu
Ndidi is a singer and songwriter with a soulful voice reminiscent of the contemporary rhythms of Africa combined with the Blues. Ndidi recently performed at the 18th Annual Women's Blues Revue at Massey Hall in November 2004, "Africa Sings" at the Royal Ontario Museum in February 2005, the Distillery District "Global Café", the Ontario Council of Folk Festival conference and Blues Summit II. Plans are underway for an acoustic EP of original material and continued collaboration and summer festival touring with Slim et Donne.

Nidia Moya
This talented Cuban native brings us hot Havana son, bolero and salsa mixed with her Conservatory vocal training. Nidia initially performed with the all female Cuban dance band D'Talle and now works in the Toronto area with Rodrigo Chávez' band Cassava and teaches music at the Toronto District School Board.

All proceeds from the Global Divas Gala Concert will support St. Stephen's Community House, a multi-service social agency that has been serving the needs of west downtown Toronto since 1962 with programs for newcomers to Canada, homeless men and women, youth at-risk, families with young children, people and organizations in conflict, isolated and frail seniors, job seekers and expectant mothers.

The Global Divas Gala Concert begins at 8:00 P.M. – doors open at 7:30 P.M. Concert admission tickets are $30 and can be purchased by calling Ticketmaster at or online at www.ticketmaster.ca. Concert tickets can also be purchased by visiting Soundscapes located at 572 College St., Pages Books & Magazines located at 256 Queen St. W. and Toronto Women's Bookstore located at 73 Harbord St. Gala tickets are $125 and can be purchased by calling ext. 238 (partial tax receipts will be issued for gala tickets).

Please add this to your listings. We are presently confirming interviews.

For further information regarding St. Stephen's Community House and Global Divas, please visit ststephenshouse.com

For media information or interview arrangements, please contact:
Planet3 Communications Ltd. - Joanne Smale & Adrienne Lloyd
tel.


For further information regarding Jane Bunnett please contact:
Capitol/Virgin Music - Charlotte Thompson
National Media and Artist Relations
tel.