March 1, 2004
For immediate release
Concert announcement
AN INTERNATIONAL CELEBRATION OF WOMEN AND SONG:
SECOND ANNUAL GLOBAL DIVAS GALA CONCERT
JANE BUNNETT AND THE SPIRITS OF HAVANA WITH GUESTS
WEDNESDAY MARCH 24, 2004
KOOL HAUS, 132 QUEENS QUAY EAST, 7:30PM DOORS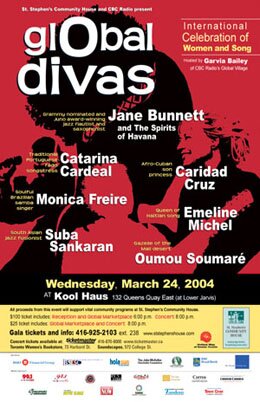 St. Stephen's Community House is proud to announce a talented and diverse line-up of accomplished Canadian female world artists for the second annual Global Divas concert.

Headlining this musical event is Grammy nominated and Juno award-winning Cuban jazz flautist and saxophonist, Jane Bunnett and The Spirits of Havana http://www.janebunnett.com. Jane will be joined at the Kool Haus by a global line-up of musicians, including:

Catarina Cardeal: this Portuguese fado songstress returns this year. She is currently recording an original project with Mike Siracusa and Dominic Mancuso.

Caridad Cruz: an Afro-Cuban son princess born and educated in Havana, Caridad spent three years studying music at the Escuela Superación Tecnico Profesional Ignacio Cervantes. She has been singing professionally ever since.

Monica Friere: this soulful Brazilian samba singer has performed all over the world and has topped World Beat Music charts. She currently lives in Montreal and is recording her new CD with Caetano Veloso's and Gilberto Gil's percussion players. http://www.cam.org/~marezia/

Emeline Michel: the Queen of Haitian Song has been performing on stages throughout the Caribbean, Europe, North & South America, and Africa for the past 15 years in French and Haitian Creole. http://www.emelinemichel.homestead.com/Home.html

Suba Sankaran: this immensely talented South Asian jazz fusionist began her musical career at a young age studying South Indian vocal music and percussion under her father Trichy Sankaran, a master drummer. She studied jazz at York University where she currently directs choirs. http://www.autorickshaw.ca

Oumou Soumare: this Gazelle of the Mali desert currently lives in Moncton, New Brunswick but studied at the Bamako National Institute of Arts in Mali where Habib Koite studied and taught music classes.

St. Stephen's Community House and CBC Radio present this event hosted by Garvia Bailey of CBC Radio One's Global Village. CBC Radio will be there to record this special event for local and national broadcast on upcoming editions of CBC Radio One 99.1's Metro Morning, Here and Now (Victoria Day Weekend), Bandwidth and Global Village and CBC Radio Two 94.1's In Performance (Mar. 26). Proceeds from the evening will support vital community programs at St. Stephen's Community House, which helps more than 28,000 people each year.

The Global Divas concert begins at 8:00 p.m. with doors opening at 7:30 p.m. Concert admission tickets are $25 and can be purchased by calling Ticketmaster at or online at www.ticketmaster.ca. Concert tickets can also be purchased by visiting Soundscapes located at 572 College St. & Toronto Women's Bookstore located at 73 Harbord St.

Patrons can meet the Divas at a Gala Reception beginning at 6:00 p.m. Included in this special portion of the evening is a delectable array of international cuisine from some of Toronto's finest restaurants, such as Caju (922 Queen St. W.), and the Global Marketplace silent auction. Gala tickets cost $100 ($50 tax receipt) and tables of 10 can be purchased for $1,000 ($500 tax receipt) and can be ordered by calling ext. 238.

St. Stephen's Community House has been creating opportunities and strengthening communities in Kensington Market and surrounding neighbourhoods for over 40 years by providing vital programs for low-income families, at-risk youth, the homeless, isolated seniors, people at-risk of contracting HIV/AIDS, the unemployed and newcomers to Canada.

Please add this to your listings. We are presently confirming interviews.

For further information regarding St. Stephen's Community House and Global Divas, please visit https://ststephenshouse.com.

Media information please contact:
Planet3 Communications Ltd. • Mary-Margaret Love
tel.


For further information
Jane Bunnett please contact:
Capitol/Virgin Music • Charlotte Thompson
National Media and Artist Relations
tel.


Global Village please contact:
CBC Radio • Carolyn Rosen
Program Marketing Coordinator
tel.