Workplace and Organizational Services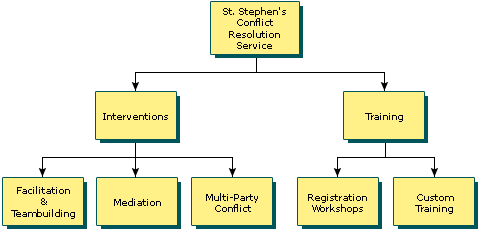 Is conflict in your organization:
Costing time and money?
Leading to grievances and legal actions?
Causing stress for employees and management?
We offer:
Affordable, on-site, customized services
Participatory and interactive processes
Quick response times and flexible scheduling
Experienced trainers and mediators with diverse skills
Effective lasting solutions
Your organization can be more productive with:

Improved and efficient communication
Greater flexibility in resolving workplace conflict
Proactive conflict management
What makes us distinctive:
We have pioneered the use of mediation in community and workplace disputes in Ontario since 1985.

Our processes solve immediate problems and help build long-term relationships.

We are a one-stop service for conflict management, consulting, and training; from one-on-one conflict to multi-party disputes.

Our training and conflict resolution processes take cultural differences, confidentiality and power imbalances into account.
Mediation
In simple workplace conflicts between staff, the first step is to hold separate confidential interviews. These sessions help each person consider the value of mediation and inform the mediators of the key issues. The next step is to use a proven 4-phase mediation model that we have been practicing since 1985.

The 5-step mediation helps to:
Improve understanding between people
Look at the needs, motivation and interests behind a conflict
Lead to a mutually acceptable agreement
Multi-Party Conflict Resolution
In more complex multi-party conflicts, we begin with private interviews, assess the situation and consult with the respective parties to customize a process.

Our suggested interventions include:
Mediation between key individuals
Group processes (conferencing, group reconciliation, consensus building, etc)
Relationship building
Communication and conflict management training
Facilitation and Teambuilding
Facilitation and teambuilding at board meetings, staff meetings or conferences are crucial to handling difficult agendas, issues or decisions.

We provide expert facilitators who can assist with:
Group facilitation
Teambuilding
Strategic planning and visioning
Custom Training
Since 1988, we have offered training in third-party mediation, communication and conflict management. Customized training is the most cost-effective way to train groups of 8 people or more. We can build on the expertise of the participants and tailor the training to meet specific needs.

Our workshops are participatory, combining discussion and exercises with short presentations and demonstrations. Individually coached role-play sessions are an important part of the mediation training process.

Our customized workshops include:
Self-assessment tools
Communication skills training
Win-win or interest-based problem solving
Confronting and de-escalation skills
An adaptable 5-step model for mediation
Training for trainers
Facilitation training
Fees
Our fees for customized workshops with one trainer (including assessment, design and materials) range from $1,200-$1,500 per day. Additional trainers and coaches for mediation training are extra. Our rates for mediation range from $120-$150 per hour. However, these rates may be negotiable to meet your budget.

Please contact Kirsten Bowen-Willer at ext. 249 for a proposal on how we can help meet your workplace, organizational or training needs.
Our past clients have included:
Canadian Pacific Railways
Ontario Power Generation
Board of Funeral Services
Park Property Management
Indian and Northern Affairs Canada
Health Canada, Health Promotion and Social Development Office
Ministry of the Attorney General, Office of the Police Complaints Commission (Ontario)
Ministry of the Solicitor General and Correctional Services, Employment Equity Branch
City of Toronto, Parks and Recreation
Community Occupational Therapists and Associates
Ontario Dental Nurses and Assistants
Co-op Housing Federation of Toronto
Toronto Community Housing Corporation
Anglican Church of Canada
Children's Aid Society
Independent Living Centre of Waterloo
Intercultural Neighbourhood Social Services, Mississauga
Humber River Regional Hospital
Scarborough Community Care Access Centre
Regis College, University of Toronto
George Brown College, Students Association
Our Trainers, Coaches and Mediators
Our trainers, coaches and mediators are all lead mediators at St. Stephen's Conflict Resolution Service. They bring a depth of experience and a diversity of professions, cultures and backgrounds. Our ability to select the appropriate people for your needs is crucial to meeting the needs of your situation.