GLOBAL DIVAS CONTEST 2005

WIN one of two pairs of tickets to see Global Divas 2005!

CONTEST RULES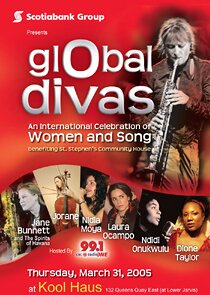 St. Stephen's Community House and its promotional partners: Correo Canadiense, Corriere Canadese, Nove Ilhas, Tandem and Town Crier (collectively, the "Promotional Partners"), are pleased to present the Global Divas 2005 contest. The contest opens on March 1, 2005. All entries must be received by March 21, 2005. The random draw takes place on March 25, 2005.


TO ENTER

No purchase necessary. Contestants must mail an entry, with name, address, daytime and evening phone numbers (with area code), and e-mail address, if any, to be received no later than March 21, 2005 to:

Global Divas
91 Bellevue Avenue
Toronto, Ontario
M5T 2N8

Limit: One entry per person. Multiple entries from any one person will void all such entries. No photocopies or other reproductions permitted.

All entries become the property of St. Stephen's Community House for any and all purposes, and will not be returned.

Entries must bear sufficient postage.

Sponsor and the Promotional Partners will not be responsible for postal system deficiencies of any kind, or for entries which are illegible, incomplete, delayed, stolen, misdirected, lost or destroyed, which entries will be void.

TO BE ELIGIBLE:
You must be 19 years of age or older. Employees and representatives of Sponsors, St. Stephen's Community House, their respective agencies and such employees/representatives' immediate families and persons with whom they are domiciled are not eligible. In these Rules, "immediate family" means mother, father, brothers, sisters, sons, daughters and husband or wife, regardless of where they reside.

RANDOM DRAWING:
A random draw will be conducted on Friday, March 25, 2005. The selected entrant will be notified by telephone or e-mail within 72 hours. If the selected entrant cannot be contacted and the skill-testing question administered within 14 days, the prize will be forfeited and an alternate entrant may be selected. If the selected entrant is unwilling or unable to comply with the contest rules, the selected entrant will be disqualified and another entry will be randomly drawn from the remaining eligible entries received.

PRIZE:
One pair of concert tickets to Global Divas, an international celebration of women in song, taking place at Kool Haus on Thursday, March 31, 2005, at 8:00 p.m. Featured performers are Jane Bunnett and The Spirits of Havana, Jorane, Nidia Moya, Laura Ocampo, Ndidi Onukwulu and Dione Taylor.

By claiming the prize, the selected entrant waives the right to claim any cost of winning the prize including, without limitation, any and all costs of verification and redemption or travel to redeem the prize and bears in full any liability which might arise from redeeming or seeking to redeem the prize.

In order to win the prize, the selected entrant must first correctly answer, without assistance of any kind, whether mechanical or otherwise, a time-limited, mathematical skill-testing question to be administered in person or by telephone, and must otherwise comply with these contest rules.

TO CLAIM THE TICKETS:
The tickets must be picked up at Kool Haus, on the evening of the concert.

GENERAL:
The prize must be accepted as awarded and no cash or other substitution for or transfer of prize will be allowed.

The odds of being selected will be determined by the number of eligible entries received by the contest closing date.

By entering, each contestant agrees to abide by the contest rules and the decisions of the contest judges, which shall be final in all matters relating to this contest. The winner will be required to sign and return, within 2 days of the date on the notification (or within such other period as may be indicated on the notification), a Declaration and Release form, confirming, understanding and acceptance of all contest rules, acknowledging acceptance of the prize as awarded, and releasing Sponsor and the Promotional Partners, among certain others, from all claims, losses or damages that may arise in connection with the contest or the prize. The winner's guest must also sign a release of liability form and publicity release and return same prior to the event. Failure to return any Declaration and Release documents within the time required may result in forfeiture of the prize.

By entering, the entrant who becomes the winner agrees to the use of his/her name, address (city and province/territory), biographical information, statements about the contest or the prize and/or photograph or other likeness in any publicity or advertising carried out by Sponsor or the Promotional Partners, without additional compensation relating to this contest.

Sponsors reserve the right to amend or terminate this contest at any time without prior notice if any factor interferes with its proper conduct as contemplated by these Official Rules.

Sponsors retain the right in their absolute discretion, to make substitutions of equivalent kind or monetary value in the event of the unavailability of the prize or any component thereof for any reason whatsoever.

The contest is subject to all applicable federal, provincial and municipal laws and regulations.